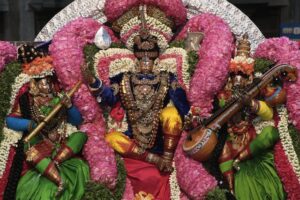 Bigger crowds were at the tank of Sri Kapali Temple on Friday evening to take part in the second day of the annual teppam.
But they were allowed into the tank and to sit on the steps on all three sides only after the float had gone through two rounds inside the tank.
This evening it was the turn of lord Singaravelar and his consorts, all decorated in colourful alankaram and brought in a procession to the tank from the temple.
Saturday will mark the final day of the teppam, starting at 7 p.m. and the longest rounds of the float will take place.
WATCH VIDEO of teppam at www.youtube.com/mylaporetv