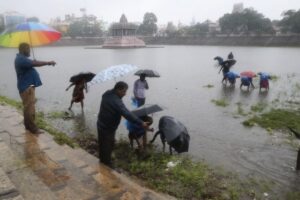 A team of staff of Sri Kapaleeswarar Temple were seen working since 10 a.m. this Tuesday morning clearing a lot of vegetation that has flourished in the stagnant water of the tank.
Even as the rains came down, there was a strong flow of water from the streets around the tank being led into the recently-laid pipes at the south west end of the tank, the spot opposite Sangeetha restaurant.
Overnight rain has led the water inside the tank to rise by one step in the tank, said workers. They expect it to rise further during the course of the day.
This will be welcome as the temple prepares for the annual teppam fest later this January ( 28 – 30th).