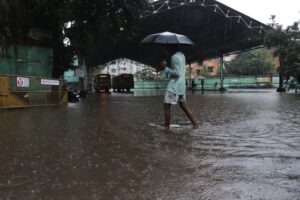 Mylapore woke up to steady rains this January 5 morning with skies overcast and the rain falling even as office-goers prepared to set off for work.
Though the main roads and streets were not flooded, some places were affected.
The campus of the MTC bus terminus in Mandaveli held a sheet of rainwater inside and on Venkatakrishna Road. It is not clear if rainwater is harvested in this rather big campus off R K Mutt Road.
At local ration shops, people hung on in the queue to receive their Pongal fest hamper given by the state for certain card-holders.
The rains changed the face of Nageswara Rao Park in Luz – the green looked greener and there was a glow and freshness only a park can produce when it rains steadily.
Fewer walkers were at the park for their daily walk this morning.