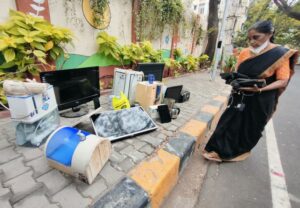 The e-waste camp held under the banner of R K Nagara community association was a "big success' if you go by one head of this community.
800 kilos of waste was carted away by a private recycling agency last Sunday, Feb.21.
Among the items that were junked here were old radio and transistor sets, water coolers and iPads.
Says K L Bala Subramaniam, one of the community heads, "We had people from Nandanam and CIT Colony dropping off waste. I would have wanted more from residents from our area though."