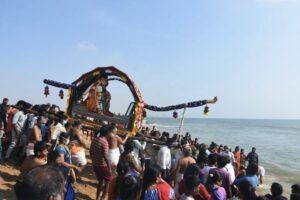 The images of lord Kapaleeswarar and of Karpagambal were carried in one palaquin to the shores of the Marina this Saturday morning  ( Feb.27) as part of the Masi Magam event.
The procession reached the shoreline at about 9 a.m. where large crowds had gathered even as the gods from other temples were brought here in processions.
A symbolic ritual was carried out on the shoreline and the procession returned to the temple.
(()) WATCH snappy video of the events on Marina at Mylapore Times FaceBook page – https://www.facebook.com/mylaporetimes