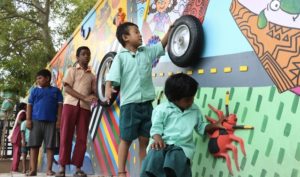 The Infinity Park in San Thome has recently opened after the lockdown. Since it was used as a Covid management centre by GCC, there was restricted access inside.
But now that it is open, children, both disabled and not, finally have an outlet to release their energy after being pent up at home for months.
"I've got calls from parents to see if the park is open since other parks in Chennai have," said Sheila D' Souza, who is a volunteer at the park, which is the first in the city to be specially design and made for the enjoyment of less abled children.
"We've been coming everyday for the past week. I feel safe coming here with my son Aditya. I use the trips to the park as an incentive to get chores done at home," says Madhuram, a parent of a special-needs child.
The park is located behind the Amma Unavagam on the main road and near the Registration Office.
Report by Tara Raghuram. She is a Vidya Mandir student.
Photo is from the MT archives