The roads and streets leading to schools and colleges in the Mylapore zone got a bit busy this morning as students of more classes were invited to join classes today, with relaxation of pandemic time regulations.
At Queen Mary's College off the Marina, there was a steady stream of students and this because, all classes have now been opened for study. ( second photo)
The SOPs were followed and students and faculty were seen wearing masks in the classrooms too.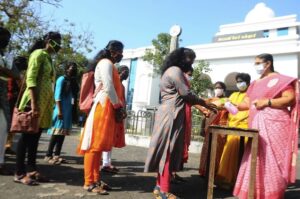 At Rani Meyyammai School in R. A. Puram, the SOP was enforced by the staff and students queued up to sanitise and pick up a mask if they had forgotten to wear one from home. ( first photo)
The state has asked schools to re-open Classes 9 and 11; Classes 10 and 12 had reopened earlier.
Though the state says attendance will not be made compulsory, many school teachers are keen that students attend classes to prepare them well for the final exams.