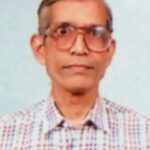 Senior retired banker M. Ramamurthy, aged 74 passed away on January 12. He was a resident of Mylapore for over seven decades.
Ramamurthy, an alumnus of the 1962 batch of P. S. High School was academically very proficient and was always a top ranker in class. He was attached to his alma mater and took part actively in the golden jubilee celebrations of his alumni batch, his family said.
He worked for State Bank of India (SBI) for 34 years, was posted across the country and retired as deputy general manager.
His family said Ramamurthy was known for his analytical approach at work, was an avid reader and updated himself on all subjects, leading a quiet retired life at Krishna Avenue, Alwarpet.
He is survived by his wife Vijayalakshmi, also a retired banker and daughter Krithika who lives in the USA.
The family contact: 24996538.