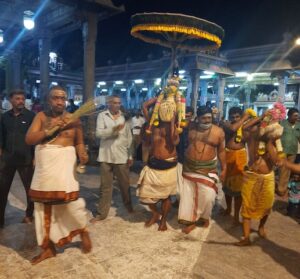 It is on the Maasi Thiruvathirai day every year that the presentation of the schedule of events of the Panguni Brahmotsavam takes place at the Sri Kapaleeswarar Temple signifying the formal announcement of the specifics of the grand annual utsavam.
The Lagna Pathirikkai was read out in full by the head priest E Venkatasubramanian Shivachariar at the Sri Kapaleeswarar sannidhi at 8pm. This was preceded by a Maha Abhisekam for Sri Kapaleeswarar.
Work had begun 24hours prior with the service personnel of the temple creating a grand plantain thoranam at the entrance of the Kapaleeswarar  and Karpagambal sannidhis on Sunday evening.
Even as the Saayi Rakshai Pooja and Deepa Aaradhanam was being performed,  devotees had gathered in good numbers at the temple.
A donor from the Poonamallee Vellala Community has been sponsoring the events on the Lagna Pathirikkai evening.
Venkatasubramanian Shivachariar recalls this turning into a much bigger event in recent years "Till about ten years ago, this was a simple event lasting a short duration. In the last few years, this has suddenly emerged as a grand event especially with the maha abhisekam comprising a wide variety of fruits, panchamritham and a colourful flower decoration. The interest of the devotees too in this event has increased dramatically as seen from the large crowd this evening."
Following the reading of the Lagna Pathirikkai and the alankaram of the swamy and ambal, Othuvar Sathgurunathan presented Pancha Puranam Saathupadi, a compilation of five sacred verses.
The evening's festivities ended with a procession inside the temple of Kapaleeswarar and Karpagambal.
Report and photo; S. Prabhu