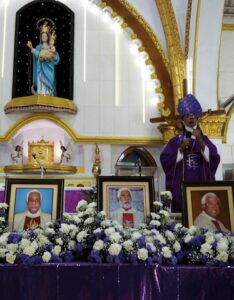 A memorial eucharistic service was held for three priests who attained eternal life at Our Lady of Guidance Church also known as Lazarus Church on Feb. 22 morning.
Rev. Dr. Lawrence Pius, the bishop of Dharmapuri presided over the service.
All the three deceased  priests, Fr. A. Isidore Vijaya Kumar, Fr. J. Amalaraj and Fr.Pascal Petrus were members of Our Lady of Guidance.
The other priests who participated in this service were parish priest Fr. Y.F. Bosco, Fr. A. Antonysamy, spiritual director of San Thome Cathedral. Fr Antony Raj, parish priest of Our Lady of Visitation Church, Abhiramapuram, Fr Louis from Dhyana Ashram and the secretary of the bishop of Dharmapuri.
The choir which performed during this Mass was of Our Lady of Visitation Church Abhiramapuram.
After the service, lunch was arranged at the parish hall of the church. This service was organised by Champa Edward, Mangala and A. Rajkumar with the help of Fr. Y. F. Bosco.
– Report, photo by Juliana Sridhar