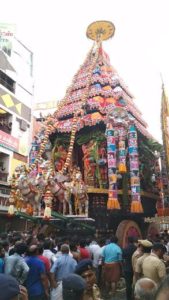 Last month, Mylapore Times reported on the possibility of a double bonanza for devotees with  last year's Brahmotsavam taking place before this year's event (.https://www.mylaporetimes.com/2021/01/will-last-years-cancelled-brahmotsavam-be-held-at-sri-kapali-temple-in-coming-months/).
While on the same day last year, the Lagna Pathirikkai was read out, the national lockdown was announced in the last week of March last year and hence the Brahmotsavam could not be conducted.
Now it is confirmed that the 2020 fest will indeed be celebrated from Feb.28.
Confirming the news to Mylapore Times this evening, D Kaveri, JC, Sri Kapaleeswarar Temple said that the last year's Brahmotsavam will be held inside the temple from this Sunday Feb 28 albeit on a smaller scale.
She also said that Vasantha Utsavam relating to last year will be held immediately after the Brahmotsavam in the second week of March.
However, not all the vahanas will be on show.
Head priest Venkatasubramanian Shivachariar said that the pancha murthy procession will only be on select days of the festival. Punnai Maram Vahana and Rishabha Vahana processions will take place  while on the day of the Arubathumoovar, there will only be the four sacred saints procession.
The Siriya Thiru Ther ( small chariot) procession will take place inside the temple on the day of the chariot.
But this year's Panguni Brahmotsavam starting in the third week of March will feature the street processions on all the vahanas including Arubathumoovar and the chariot festival.