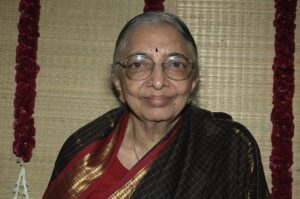 Sarada Venkataramani, who belonged to an illustrious family of Mylapore ( her grandfather T. R. V. Sastri was a Mylapore icon and daughter Prabha Sridevan retired as Madras High Court judge) passed away  on January 31.
She was born on February 11, 1929 to Rajammal and U. S. Ramasundaram, son-in-law of T. R. Venkatarama Sastri. She got married in 1946 to railway officer, B. Venkataramani, son of K. Balasubrahmania Iyer and grandson of V. Krishnaswami Iyer.
Sarada completed her Intermediate at Queen Mary College. She was an exemplary student in both her school and college especially in mathematics. In later years, she was a keen student of Sanskrit, especially on Advaita.
She transcribed the Anugraha Bashanam of Sri Sankaracharya swamigal of Sakatapuram and also the Bhagavad Gita lectures of Swami Paramartananda.
Over the years, she provided tuition classes to many under privileged children. She served as a scribe for a blind scholar. In 2012, she was one of the oldest students to take part in the QMC rally against the move to demolish the college complex.
Never idle, she acquired proficiency in many arts like crochet, knitting, embroidery and bridal hair-do. Her family, friends and attendants deeply cherish the beautiful handmade woolen sweaters, blankets, mittens and scarves that she has gifted them over the years.
Many brides still remember her dressing them up beautifully in madisar and muthu pinnal. Her chocolate fudge was a family favorite. She had a keen interest in travel. In an era before organised travel tours, she arranged and undertook a world tour spanning several countries with her husband. She was a great story-teller and encouraged younger members of her family into reading classics. She was fond of playing Scrabble with her family, watching Tamil and English movies as well as sports such as tennis and cricket.
Sarada is survived by her children, Prabha Sridevan, Sanskrit scholar Sita Sundar Ram, and Balaji.
Contact – prabha.sridevan@gmail.com