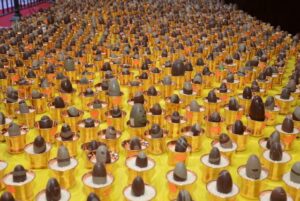 On the occasion of Maha Sivarathri, Sivamsam has arranged a religious celebration themed on the rudraksha at a campus in R. A. Puram.
A massive 11 feet tall Rudraksha lingam with some 5 lakh Rudrakshams, 5001 green aventurine quartz (maragadha pachai) lingams, 1008 Narmada Baana lingams and 108 Emerald lingams has been set up.
On now at Kapaleeswarar Temple grounds, Greenways Road, till March 11 – from 9 am to 9 pm.
Special poojas like Sri Rudhra Parayanams, Panniru Thirumurai Parayanams, Sri Kailasah Vathiyams are being performed here, says a note from the PR agency handling the fest publicity.
There is also an exhibition of religious artefacts and spiritual items.
For details call: 94884 93756 / 97501 10698