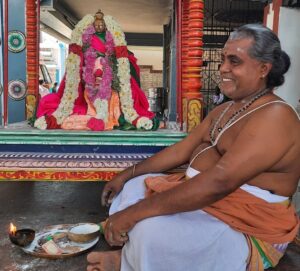 The day after the chariot festival is meant to be a big day at the Brahmotsavam at the Sri Kapaleeswarar Temple. It is the day of the arubhathumoovar.
In the shortened version, done more as one to complete 2020's Brahmotsavam that did not take place last year due to the lockdown, all the processions are being carried out inside the temple with only a couple of vahana processions.
The morning of Day 8 of the utsavam began with the enactment of the Poompavai legend. The othuvars presented the sacred verses of Gnana Sambandhar and in a dramatic moment, a screen put up at this venue opened up with Poompavai coming back to life.
A couple of hours later, right on the knock of noon, the screen opened at the Thiru Kalyana mandapam for the deepa aradhanai of the Pancha Moorthy idols.
Shortly after Sundarar, Appar, Manickavachakar and Mylapore's Vayilar Nayanar joined Thiru Gnana Sambandhar ( seen in the photo here)  for 'Ethir Sevai' at the eastern entrance fof the temple.
While the arubathumoovar day is one of the biggest of the utsavam with devotees gathering in several thousands, this one on March 8 turned out to be anti climatic and a sober affair with service personnel and archakas exceeding the number of devotees on this rather hot Monday afternoon.
Said a devotee, who stayed home and  watched the lve webcast via Mylapore Times' FB Live, "There are more archakas, sri patham, photographers, Vathiyam and service personnel at the utsavam today than devotees. This is not how the arubhathumoovar day should be."
"When 'Appa' (a typical reference by traditional Mylaporeans to lord Kapaleeswarar) comes out of the screen, he is welcomed by several hundreds of devotees outside the Thiru Kalyana mandapam. Chariot and Arubhathumoovar are very exclusive to this utsavam. Just the way the Lord wears the garland is so grand on this day."
The four saint poets along with Vayilar Nayanar, Sivanesa Chettiar, Poompavai and the Pancha Moorthy idols were taken around in a procession and the 'Bhaktotsavam' ended with a deepa aradhanai just after 1 pm.
Report and photo by S. Prabhu