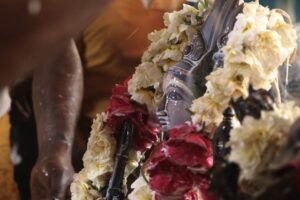 The mass milk abhishekam event dedicated to Kolavizhi Amman in Mylapore is a well organised affair. Imagine carrying this out involving 1008 people and milk pots.
There isn't much madness in the method. It is smooth.
And so it was since early morning; starting at Sri Kapali Temple, the women carrying the paal kudams walked down to the amman shrine a couple of kilometres away and then offered the milk for the long abhishekam.
This event takes place in the days leading to the panguni vizha at Sri Kapali Temple, due mid-March this year.