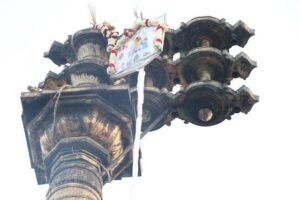 The gathering was small but significant was the event – the kodiyetram for the 2020 Panguni vizha at Sri Kapali Temple that took place this March 1 morning, 6 a.m. onwards.
This signalled the start of what is technically last year's fest that had to be held back due to the onset of the pandemic.
The full scale of the fest will be held though on a small scale. Then follows the 2021 fest on the grand scale we are all used to.
Here is the schedule – https://www.mylaporetimes.com/2021/02/sri-kapali-temple-2020-brahmotsavam-risbhabha-vahanam-on-mar-5-chariot-on-mar-7-thiru-kalyanam-on-mar-10/