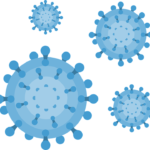 There are about ten to 15 new corona virus cases reported in the Teynampet zone of the city every day, which covers most areas of Mylapore.
This information was shared by a senior officer of Chennai Corporation who wished to remain anonymous.
In one case, three members of a family who had travelled out were affected.
But the officer denied news that a private TV channel had put out saying there was a case of 8 members of a family in a Mylapore colony contracting the illness.
The officer said that local civic staff handling the issue respond quickly to cases reported as soon as they come to their notice.