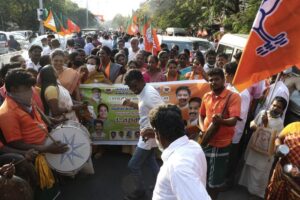 The BJP launched its election campaign locally by taking out a procession from Luz Circle to Mandaveli on Tuesday evening, March 2.
A band of musicians led the procession through the Mada Streets of Mylapore and to its destination on Mandaveli Street where a public meeting was held at night. V K Singh, union minister was the main speaker here.
The BJP leader Karu Nagarajan, who was the key man behind this event is pitching strongly for the Mylapore ticket.