A group of people, some 50 in number have started a sit-in protest on the roadside beside the Marina Light House campus this morning after they saw pre-fabricated beach hawker stalls unloaded on the sands off the beach service road.
Chennai Corporation intends to set up uni-designed hawker stalls here after the Madras High Court went into a case on  maintenance and condition of the Marina which has been over-run by hundreds of hawkers from end to end, with hardly any management or system in place, leading to pollution, cartelisation and unregulated business.
Though the long-time hawkers were enumerated and given the opportunity to bid for stalls and new hawkers also allowed into the process, the hawkers protesting now say they live closeby and hawking has been their only source of income for years and that they have been sidelined.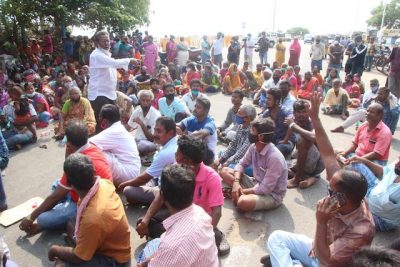 The court had to intervene in the bids/contract to build the hawker stalls, with two companies competing for the order.
The new stalls, some 8ft by 2 ft, have some smart, neat features and are solar-panel fitted. However, stocking space seems limited and. a hawker can perhaps only stand inside the stall.
Report, photos by Madhan Kumar