The 35-year-old Udipi Sri Ganesh Bhavan at the far end of R. A. Puram and on P. S. Kumarasamy Raja Road is the place to go to to enjoy bisebele bath, of the real Udupi taste.
The past weeks, diners arent sure of this bath at lunch time. Reason? The owner of this popular food place has cut down on the items his kitchen staff prepare because sales are down due to the pandemic condition.
"My loss is over 50% and I will really it difficult to manage our expenses if the rules allow us to cater to only take-
away," says the owner, G. Krishnakumar, 31.
"We usually have a good rush in the mornings and afternoon, but by night the crowd decreases. But
after this no-dine in restriction there are only a very few regular customers walking in and getting parcel, food"
This place is known also for its Udupi style sambar and getti chutney.
The small team of staff are from Nepal and Kerala. They were given temporary leave and presently there are only 50% of the workers and they do double duty and their salary has been cut by 20%.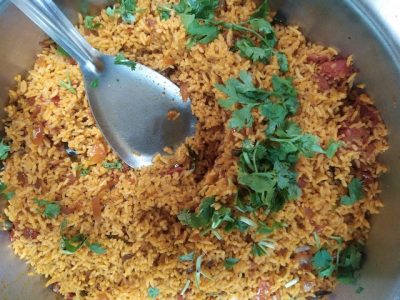 Says Krishnakumar, "Last year during the lockdown, our workers got stuck inside the hotel for about three months and suffered a lot. To avoid that crisis, they took off to their hometown once the only take away rule got implemented and will return to work once everything functions normally."
The working hours have been reduced. The lunch menu is down to only variety rice. But they never compromised on their
famous sambar rice and vegetable rice.
Next door,  Omega Bakery is also seeing bad days.
Shivakumar, 50, the owner here who is a tailor and has run this bakery as a side business for two years says that he still has not been able to pay the last year's shop rent. "We ran the family with our savings. This year if there is a lockdown then we
don't know what we're going to do," he says.