What should have been an evening of twin delight turned out to be a quiet event inside Sri Kapaleeswarar Temple.
Chitrai Sadhayam marks the Mukthi of famous Saivite saint poet Thirunavukarasar (Appar).
On Wednesday evening, devotees would have witnessed the grand procession of Appar in the Pushpa Pallakku. But for the second year, restrictions on street processions and devotees' presence at temples have meant that the events on this big day in the year have been carried out without the devotional flavour.
Shortly after head priest E Venkatasubramanian Shivachariar performed the Deepa Aradhanai at 7.30pm, the Sri Patham carried Appar on the Pushpa Pallakku inside the temple complex.  This was followed by the eighth day celebrations of Singaravelar's Vasantha Utsavam.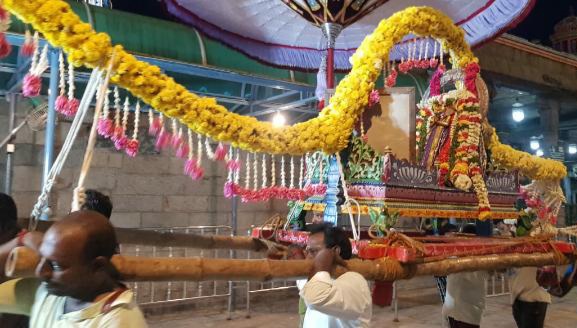 On a normal evening, the temple would have been buzzing on such a festive occasion but not so on Wednesday evening.
Devotees catching a glimpse of Singaravelar, and last evening of Appar, at the eastern and western entrances continues to be the important devotional moment for them.
The head priest had told Mylapore Times last year at the peak of the pandemic restrictions that the vibration inside the temple was not the same without the presence of the devotees and their chanting. The priests are now reliving what they experienced in the same period last year of a life inside the temple without devotees, and that is a hard way of life for them.