This is a habit, a practice nothing can stop. Not even pandemic regulations. Stopping at a temple to reflect, to pray.
Big, popular temples are off-limits to people now but smaller ones in Mylapore's crowded areas are open in part and offer a space for people to stand apart and pray.
Thillai Vinayakar Temple on Bazaar Road had its gate open on Friday evening, for devotees to do the pradakshanam,
though the main sanctum was locked.
Sri Valampuri Vinayagar Temple, in Arundale Street  had some 25-plus while the priest was performing the evening pooja.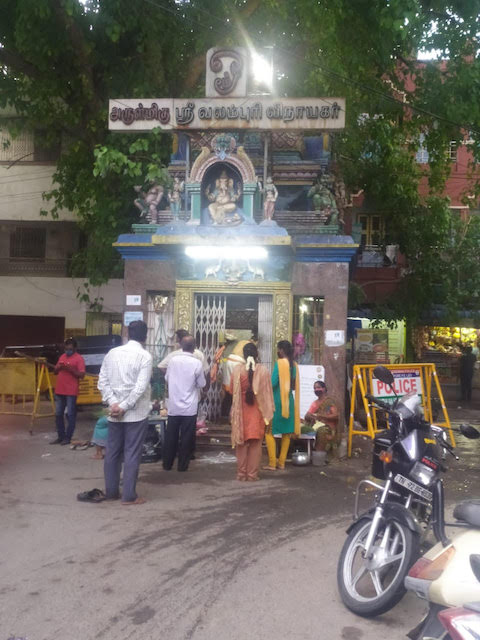 At Sri Ponni Amman Temple in P. V. Kovil Street devotees were seen going directly into the shrine and praying
with devotion.
A big queue was seen in front of Sri Veera Shakti Vinayagar Temple in Madhava Perumal Kovil Street as
the distribution of prasadam took place. Everybody was wearing masks but there were no
social distancing norms followed.
The women serving the prasadam were not wearing gloves. Said a woman. here,"Closing of temples is never going to solve the problem anyway, it is better to close TASMAC shops than closing temples."
Report, photos by Aishwarya R.