A set of small businesses continue to thrive even during the current phase of the pandemic. Most are food joints and food suppliers.
Take this unnamed, unbranded shop operating in 100-square feet space on Kutchery Road, diagonally opposite the Mylapore Police Station. '
The shop offers varieties of rice, chappati and meals in packed boxes – only between noon and 3pm daily, except on Sunday. And the packs get sold steadily.
Between September 2020 and March 2021, the shop had sold 100 food packs each day.
The lockdown had meant the shop had to shut down in May and the first fortnight of June.  Nowadays,  60 packs are sold daily and the salesperson said he expects this to increase.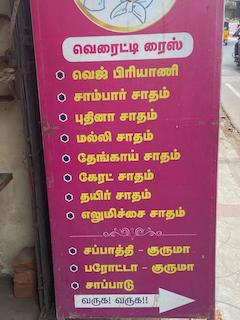 The variety rice items are readied in neatly packed boxes. Priced at Rs. 40, Sambar Rice, Lemon Rice and Curd Rice run out quickly.
The shop also offers a packed meal at Rs. 60 besides vegetable briyani and chappati-kurma.
The shop has been doing business at this location for the last three years. They also offer catering services for social functions. Call Prabhu at 97109 34733.
Report by S. Prabhu. Photos by Madhan Kumar.