A Catholic priest who was born and brought up in Raja Annamalaipuram has now been appointed Bishop of Port Blair diocese which oversees all the churches in Andaman and Nicobar islands in the Bay of Bengal.
55-year-old Fr. Visuvasam Selvaraj was appointed bishop by Pope Francis – the papal order was issued on June 29. The priest will be ordained on August 21 at a grand religious ceremony.
Fr. Visuvasam Selvaraj was born on January 4, 1966 at the Andhra Mahila Sabha-managed Durgabai Deshmukh Hospital in R. A. Puram. His parents, hailing from Madurai had moved to Chennai, living in Adyar first and then moving to a small house in a colony located off Greenways Road. His father managed a wholesale business in aval ( beaten rice).
That business has remained with the family for years, though it has scaled down – the priest's brother, Bhaskar now runs a shop in Mandaveli's Devanathan Street which sells among other products, aval.
"I was baptised at saint Lazarus Church, was an altar boy there and attended Holy Mass at this church for years," said the priest while talking from Ranchi where he was attending meetings.
He first attended Rajah Muthiah School, did his final two years of schooling at San Thome Hr. Secondary School, joined the Catholic diocese's minor seminary in San Thome ( then located opposite the Cathedral) and moved to the Sacred Heart seminary in Poonamallee.
So how did the Chennai-based seminarian find a calling in the Andamans?
"I wanted to serve outside my home state and I was keen to go to the missions in Africa. But one unexpected turn took me to the Andamans," says Fr. Selvaraj.
The then bishop of Port Blair was passing through Chennai and while in the city, casually told local senior priests who were hosting him that he would be happy to have young priests serve in his diocese.  This invitation was shared with Fr. Selvaraj who was yet to be ordained a priest, and the young man took the earliest flight to the island.
He was ordained priest in May 1994 for the diocese of Port Blair and after serving in many a local parish, went on to hold key posts in the diocese.
"Since I worked closely with the bishop at Bishop's House I was involved in many policy-making decisions," says the priest. And since the time the previous bishop retired and moved out to Goa, Fr. Selvaraj has been administering the diocese.
His record in the Andamans diocese must have made it easy for the Pope to choose him as the new bishop.
Fr Selvaraj says that is is the laity drives all the activities of the Catholic Church in the Andamans and that he is keen to respect that tradition and even encourage it further after he takes charge as bishop.
"It is the people who decided on the date of my episcopal ordination in August and told me they would make all the arrangements for this grand event," he says.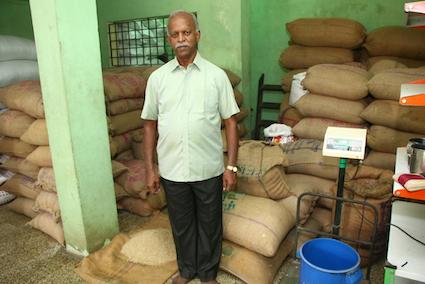 His brother ( seen at his godown store in the photo here) , Bhaskar's family now resides near the Mandaveli store and they are members of the parish of Our Lady of Visitation Church on St. Mary's Road, Abiramapuram.
"When I am in Chennai I often visit that church and have also said Holy Mass there. This time, I will also drop in at saint Lazarus Church," says the bishop-elect.