The director of the Youth Commission  of the Madras-Mylapore diocese of Catholics, Fr. Ronald Richard has been a busy man the past weeks.
From his office at the Pastoral Centre in San Thome, he has been motivating youth groups based in churches across the diocese to get involved in pandemic-time charity work. The diocese now has 127 parishes across Chennai and parts of neighbouring Thiruvalluvar district.
The outreach began with local youths providing medicines to people belonging to the parish church who needed it badly but didn't have the money to pay for the stiff bills.
Says Fr. Richard, who earlier served at various parishes in the city, "The youths generated their own funds to support their work and this is commendable in these difficult times."
The social work moved on to youths serving cooked meals to families who were in distress when the lockdowns were ordered. This was carried out under the Good Samaritan project.  ( the first photo is of the Maduravoyal youth team involved in this project).
In the case of families who needed groceries, the youth groups pooled in donations and provided this too.
Fr. Richard, who took charge of the post some months ago says archbishop Rev. George Antonysamy was keen to see that church youth groups got involved in social work at the height of the pandemic.
"The archbishop has been very encouraging and I am keen to bring more youths into our projects," said the priest on the phone as he left a suburban church on Tuesday evening where he had celebrated Holy Mass.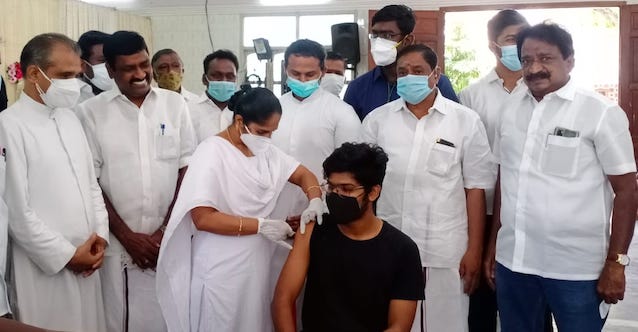 Youths are also encouraged to join the daily, one-hour-long prayer meet held on Google Meet, says Maria I. Regilan, a youth in suburban Chennai who co-ordinates the projects.
Now, the focus is on holding vaccination camps in far-flung churches for the community. This project was launched at Holy Trinity Church at G. G. Nagar parish with the help of the parish youth team and the guidance of parish priest Fr. Peter Thumma. ( second photo)
Currently, Fr Richard is overseeing the 21-Day Challenge Run – in this, a bunch of youths have been running from San Thome Cathedral to Madras University and back; they will have to do so for 21 days and the best runner get a cash prize.