A few hundred people waited patiently outside the eastern raja gopuram of the Sri Kapaleeswarar Temple on Wednesday evening to have a darshan of the pradosham procession since the temple officials decided to shut the temple for devotees till the end of the event.
But not all of them were happy with the arrangements.
 A group of senior citizens who have been regulars at the temple for two decades vented their disappointment.
K. Jayabalan who said he has been at the pradosham for the past 22 years said that since the temple campus is big people could have been let in and spread them out inside.
He also said that people were forced to keep moving in the queue and that they were not able to stand in front of the swamy or ambal even for a minute to have a darshan. "If they allowed devotees around the prakara, social distancing can be easily maintained," Jayabalan said.
 K. Vaidyanathan, who is a regular at Srikanth's Shiva Puranam group recital and at the Artha Jaama Pooja every night, says that it was a bad decision to 'lock' people in a barricaded queue when the temple space is big.  "If they had allowed people into the prakara, the crowd would have spread out," he added.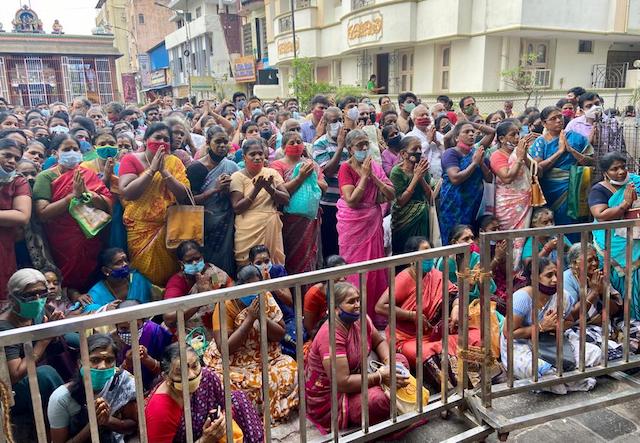 V. Sethuraman, a regular at the temple for two decades questioned the temple's decision to not permit the recital of the Shiva Puranam recital inside the temple at 7 p. m.
Since the regulations were relaxed at temples across the state, people at this temple have not been allowed to move around in the prakara except during artha jaama pooja.
 Temple executive officer D. Kaveri said that there was a government direction to not allow people access when a festival / ritual is conducted. 
Mylaporeans point out that at Sri Parthasarathy Temple in Thiruvallikeni, people are allowed to go on a pradakshinam around the prakara of the temple. Also, during last Friday's Thayar procession inside the temple, all people were allowed to participate in the procession.
 Interestingly, a wedding was held at the Navathri mandapam inside this temple on Wednesday morning that saw a big attendance.
Report – S. Prabhu. Photos – Madhan Kumar