One of the oldest residents of Mandaveli, G. Rajagopalan,  passed away on August 16 after a brief illness. He was 84 and a typical Mylaporean, leading a highly independent life after the passing of his wife about three years ago, his family said.
Rajagopalan was born on 9th April, 1937 to Dr R. Gopalan and Janaki Ammal, the youngest of three siblings. His father was a Railway doctor with Southern Railways and hence, in his childhood, Rajagopalan was constantly travelling to various towns in South India where his father was posted.  
As a youngster, he had a penchant for making mechanical toys with which he endlessly entertained his friends and younger family members. After schooling he got admission to civil engineering (somewhat to his dismay, as he wanted to take up mechanical engineering) in Alagappa Chettiar College of Engineering, Karaikudi.
After graduation, Rajagopalan worked on a series of civil engineering building projects in Chennai including prestigious ones such as a wing of Labour Institute and one All India Radio block.
After a stint working on a runway construction project at Madras airport under a contractor, he joined International Airports Authority of India (IAAI) in 1973 – a year after its formation – as assistant engineer where he worked for over 25 years rising to position of chief engineer and project director at retirement.
In his professional career, he was assigned to various airport projects across the country including in Calcutta, Delhi, Bombay, Trivandrum and Chennai. He was also posted in South Yemen for an international project undertaken by IAAI. Among the more high-profile assignments he undertook was as Project Director for Madras Airport Terminal in mid-70s and Bombay Terminal II in the mid-80s and also as the Airport Director for Trivandrum International Airport which he modernised to international standards.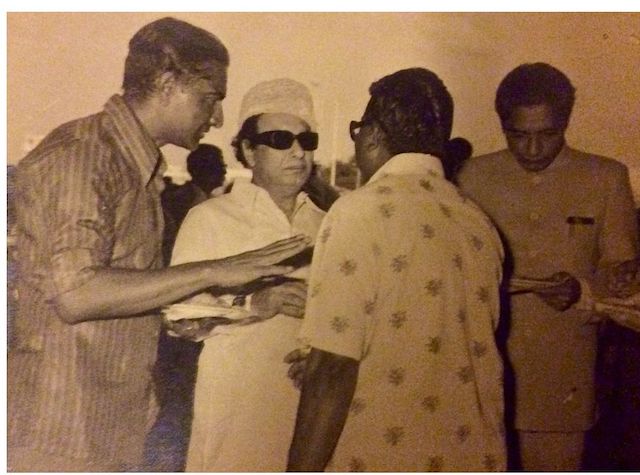 Post retirement he was chief consultant to another major project at Angamaly, Kerala which latterly became Cochin International Airport.
In his personal life, he was blessed with a long married life of over 50 years with Padma Rajagopalan, who passed away in 2018. Rajagopalan is survived by two sons.
Rajagopalan was fond of  chess and is best remembered by friends for his non-stop wisecracks and anecdotes of life.

His family is at A3, Vishnoojayakoti Apts , 2/12, 2nd Trust Cross St , Mandavalipakkam.
Contacts – +91 6385 140 067 (Mohan, son).   +91 96001 55925 (Ashok, son)
Second photo is of Rajagopalan with MGR and JRD Tata during the inauguration of airport projects in Madras and Bombay .
– Contributed by Saroj Satyanarayan