Police officials, hemmed by officials of the HR & CE Department have been overseeing this Monday the excavation of earth around the punnaivanathar sannidhi and the old goshala area inside Sri Kapaleeswarar Temple.
Obviously, this follows action stemming out of a stern Madras High Court direction recently to the police that all efforts must be made to probe the 'missing' idol of the peacock from the sannidhi, something that is said to have taken place in 2008 or before.
While workers have been busy preparing the temple for the annual Panguni festival that starts this week, the police were focussed on the job at hand and shooed away nosey-parkers.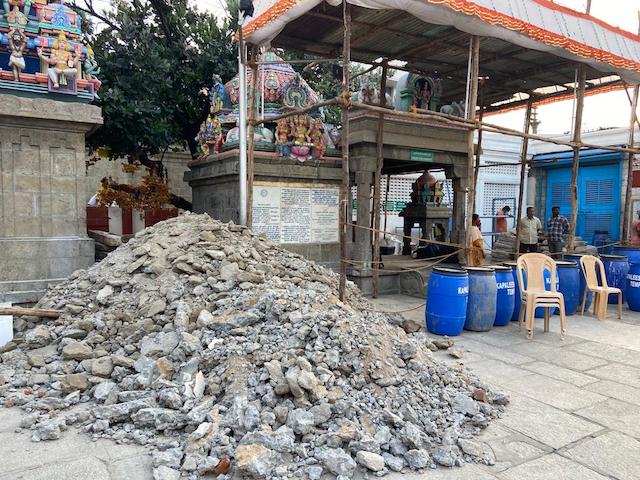 A few weeks ago, when the long-drawn case came up for hearing before a Division Bench, the police submitted that they were told that the 'missing' idol may have been dumped into the temple tank. The court directed that a search be launched. But now that the tank still holds lots of water, people wondered how such a probe could be conducted.
So why are police digging up the area around the sannidhi?
In the past, at one court hearing,  a HR & CE officer had submitted that one temple priest at Sri Kapali Temple had mentioned that the peacock idol was changed on the eve of the kumbhabishekam and buried around the punnaivanathar sannidhi.
The petitioner in this case has charged that the evidence that a change was made in the idol in this sannidhi, which is located opposite the temple office, was that the current peacock is seen holding a snake in its beak while the original one had a stalk of leaves and flowers, which is directly related to the core legend of this temple.
It was way back in 2018 that this private petition seeking probe into 'missing' peacock was filed and the case has dragged on. Fingers have been pointed to TVS Company head, Venu Srinivasan who was heading the temple committee at the kumbhabishekam time when the idol went 'missing'.
The petitioner has stated that in 2008, during the temple's kumbhabishekam, the original statue was secretly removed and replaced with another.
The TN Police's Idol Wing had told the court later, that the HR & CE Department which oversees affairs of temples had told them that files related to the idol issue had been destroyed.
In a 2019 hearing of the case, the HR & CE Department secretary submitted that the peacock may have been changed prior to 2008. It stated that following a discussion on religious / agamas procedures that was carried out, some remedial measures had been suggested and among them, a change in the peacock idol. But it was not documented in temple files, if the action ( of installing a new peacock idol) has been followed-up.