The final preparations were on at the playground alongside P S School in Mylapore on Tuesday morning ahead of the mega, 12-hour cultural event that is set to start at 6pm this evening for Sivarathri.
Tall images of Shiva and Parvathi and other Saivite deities have been placed at the southern end of the ground while the northern end of the ground was set up  for VIP car parking. The walls of the erstwhile cricket pavilion are being freshly painted.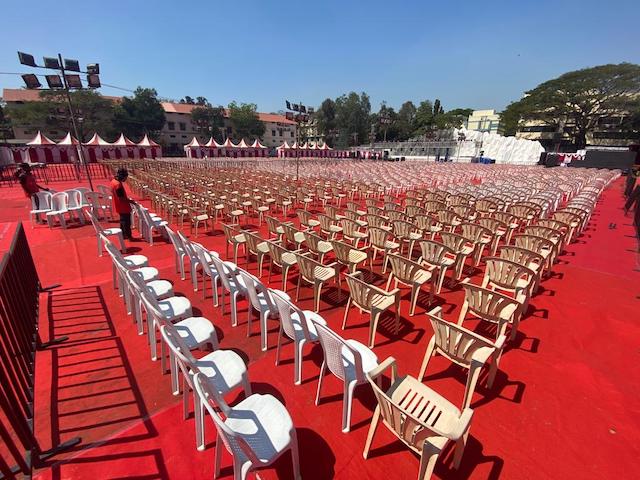 Hundreds of chairs have been placed in the middle of the ground and the big stage has already come up where multiple artistes will be performing through the night.
Interestingly, Sundaram Finance's battery operated carts that had been donated by the firm to the Kapaleeswarar Temple exactly two years ago are finally being put to use. Bhaskar, PRO of HR &CE who visited the ground on Tuesday morning to oversee the preparations told Mylapore Times that these battery operated carts will be used to help the senior citizens move from the entrance of the ground to the seats.
The public will have to park their two wheelers and cars on the R K Mutt Road edge while the parking inside the ground will be restricted to VIPs and performing artistes, he said.