The community of Govindaswamy Nagar in R. A. Puram, where a section of the households are being evicted held a demonstration on Greenways Road, opposite the MRTS rail station here.
They challenged the moves of stage agencies, saying that they intend to challenge the Supreme Court order which led to they losing their contentions and allowing state agencies to start eviction of families who are said to reside on encroached land.
A big posse of police men and women were posted at the protest spot; barricades were used to restrict the movement of the protestors, who were joined by social activists.
Yesterday, a Sunday, a resident of this nagar immolated himself as a sign of protest; he was in a critical condition and he passed away hours later. His funeral was being observed today in the nagar.
Meanwhile, demolition has been suspended here; only about 9/10 houses were knocked down earlier last week, from the west end of the colony. There was quiet on the Kamaraj Salai end of the colony where no demolition has taken place.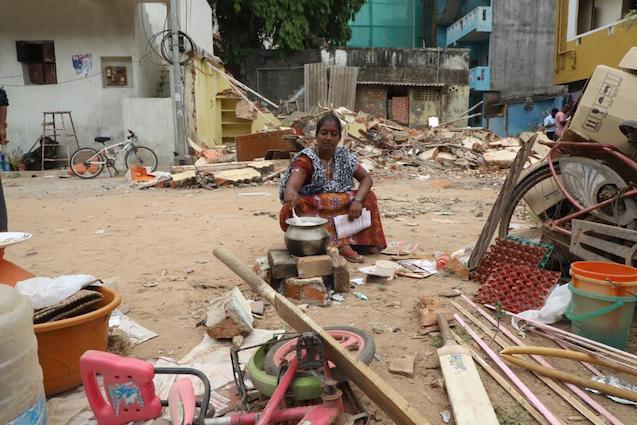 Some families displaced by the drive who have shifted to Perumbakkam where the state has allotted them housing but they too have complained that the apartments allotted are not in good condition; they have been promised better quarters soon.
But a majority are holding their ground in Govindaswamy Nagar. At noon today, a few women were seen cooking in the open, near what used to be their houses off the banks of the Buckingham Canal.