R. Dhanalakshmi of R. A. Puram bagged three medals in the recently held 42nd National Masters Athletics Championships held at the Jawaharlal Nehru Stadium, Chennai.
The meet is held for seniors and Dhanalakshmi, who is a practicing advocate at the Madras High Court took part in the 55 years+ category and represented Tamil Nadu.
She stood 3rd in the 100 mts dash, won the silver in the 200 mts and was part of the gold-winning team in the 4×100 mts relay event.
Recalling the run in the relay which was her most exciting event, Dhanalakshmi said, "I was placed in the second lap and when I received the relay baton in the exchange we were 3rd, with the runners of Assam and Tripura way ahead but I overtook them and helped my team win the gold."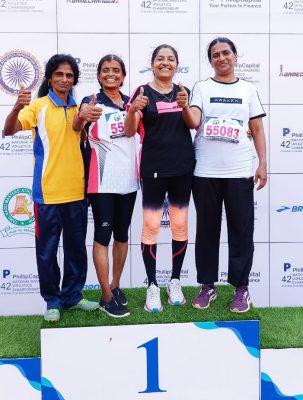 This is her first foray into competitive athletics in the Masters meet. For, she says she had heard of the meet only recently.
Dhanalakshmi has been a champ athlete in her younger days – at St Anthony's Girls School and at Ethiraj College. She was in the Madras University team as a sprinter, the 100 mts dash being her favourite.
She studied law, at the under-grad and post-grad level and started practice, specialising in consumer affairs.
But she has continued her speed walking and long-distance running, doing well in the half-marathon at Auroville.
For the Masters meet though, she says she trained for the sprints at the Alphonsa playground close to her residence ( the GCC ground on Canal Bank Road) and then, at the Nehru stadium.
Having excelled at the Masters, she hopes to.set her sights on other national and international meets.
Contact – rdhans.gold@gmail.com