The 76th Independence Day was celebrated with great fervour by the residents of Abbotsbury Apartments. One of the senior members, Sivaramakrishnan hoisted the flag and this was followed by cultural programme of patriotic songs by children, women and men, Sowmya Shankar reports.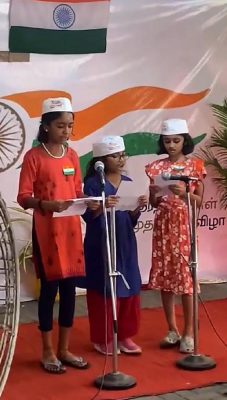 At Sri Sumukhi Rajasekharan Foundation in R. A. Puram,  the Mylapore Trio got the children in the apartment unveil a unique statue of Mahatma Gandhi which was specially made at Panrutti. The Trio ( Surendranath, Amarnath and Aparna) recollected the sacrifices made by their foster father, Rajasekaran who was a freedom fighter and an ardent follower of C. Rajagopalachari.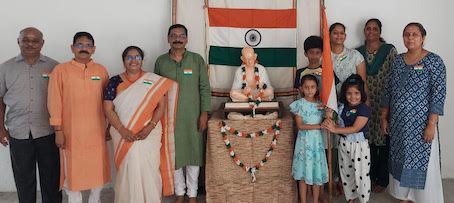 The Mandaveli Raja Street RWA hosted the Independence Day event as a large local community show. Residents of Raja Street, Kandaswamy Street, Raja Street Extension, Velayutharaja Street joined in. After the flag hoisting ceremony, patriotic songs were sung in chorus by all. Patriotic Challenge Games were organised. The event ended with the tricolour parade where residents marched up and down the street waving tricolour balloons and calling out slogans. News shared by Ganga Sridhar ( photo below)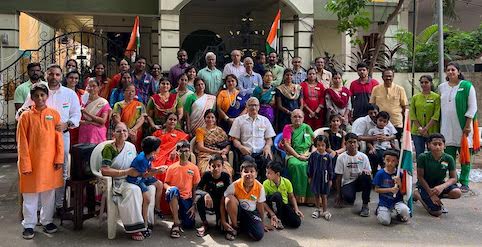 A simple flag hoisting event was held at Thiruvengdam Street, Mandaveli. A sm all group participated, says Baskar Seshadri, a resident. ( photo below)

At Ganesh Apartments, D'Silva Road, the flag was hoisted by two senior residents – V S Krishnan and Rajalakshmi Dorairajan. The Association honoured all residents who had crossed 75 years of age, said Sampath D. ( first photo featured here on top)
The community at Sai Dharma Apartments, on C. V Raman Road, Alwarpet celebrated  Independence Day with seniors and juniors holding up the tricolour at the terrace and singing Vande Mataram, reports Ramanathan Shankaran. ( photo below)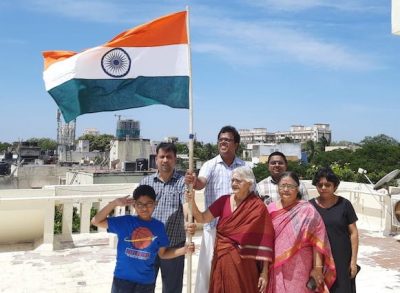 Residents of Shriram Madhuram Flats, III Trust Cross Street, Mandavelipakkam hoisted the national flag in their complex to commemorate the 75th year of India's Independence, says K. S. Ganesan, association secretary. ( photo below)
Sir Sivaswami Kalalaya Matriculation Higher Secondary School celebrated the Independence Day with an inauguration of a small exhibition of charts on 75 freedom fighters made by senior students.  It has been the school's practice for the Student Pupil Leader to hoist the India flag every year.  This time it was Fuzayl Ameen T of Std.XII who hoisted the National Flag.  School secretary V. S. Subramanian shared his Independence Day message and distributed prizes to the winners of a chess tournament and social science teacher V Suresh Kumar delivered the Independence Day message – details of this event from a note sent by the school.
At Saint Lazarus Middle School located on Madha Church Road, R. A. Puram, Robert Previn, Head of the Saint Vincent de Paul Society of Our Lady of Guidance Church was the guest ; he hoisted the national flag. Students of the school performed a drill and staged a dance performance. Sweets were distributed to all at the close of the event, reports Juliana Sridhar ; photo below