A branch of Murali's Market opened a few months ago in Venus Colony, Alwarpet.
This store for food-stuff has ready-to-cook foods, beverages, dairy, gourmet food, a variety of pasta and noodles – all displayed in neat racks.
The store also comes to the aid of people who must cook in a hurry and need the must-have stuff in the kitchen. T
raditional angaya podi, veppilai katti, vathal kuzhambu, kariveppillai, kuzhambu pastes and podis, all types vadams, tomato appalams and pickles.
Quick mixes which include idli dosais and kanji maav are on sale.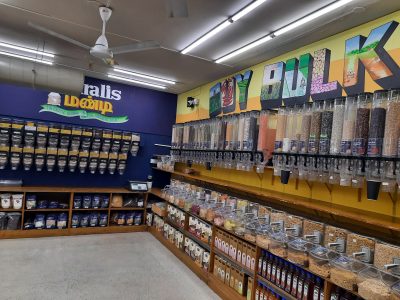 The 'mandi' section has a variety of breakfast cereals and a range of different grains and seeds and nuts – you can buy these in small measures. Brown rice, red rice, Kavuni rice, millets, chia seeds, pumpkin seeds, cereals, nuts and dry fruits are on sale.
You can also get Bydagi chillies, syrups like lemon ginger, pine apple.
Varieties of rice, pulses / dhals are available too. There is an exclusive counter for filter coffee powder, freshly ground.
Fresh vegetables are available every morning – rates are reasonable. Avoid picking these up late evenings.
Gift packs of Sri Krishna Sweets and a wide range of Indian snacks, a variety of breads and  spreads – mayo and sauces – are stocked.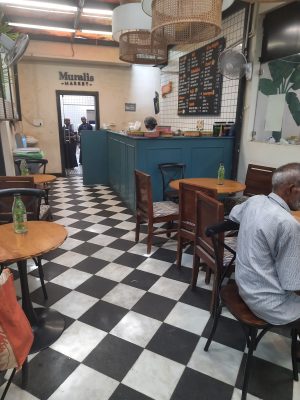 Cafe has breakfast, lunch menu
A Deli section alongside the store serves bread items, hot tea / coffee and snacks like boli, kozhukkattai, appams and dosa-vadai  combos –  you may stop here for a light breakfast. Tea-time snacks are a big attraction now.
At lunch time, sambar, lemon and curd rice, pidi kozhukkattai, mor-kali and cut fruits – packed in containers – are on sale at the store's billing counter.
Call 9003099000 for home delivery orders – serves only the area around the store.
Murali's Market is at the junction of Murray's Gate Road and Venus Colony 1st Street. Timings: 7am to 9 pm, on all days.
– Report, photos by V. Soundararani