TN Street Football Club based in Pattinapakkam recently hosted a football tourney at a playground in this area located off the Marina. Mylapore MLA, Dha Velu inaugurated the games.
16 football teams took part; top prizes were a motorbike and scooter.
Funding and moral support came from well-wishers like D. Rajesh, MD of of i-Solution, Rama Arun Kumar who runs Silver N Springs school, Poorvika, the cell sales company and Roy Varghese besides others.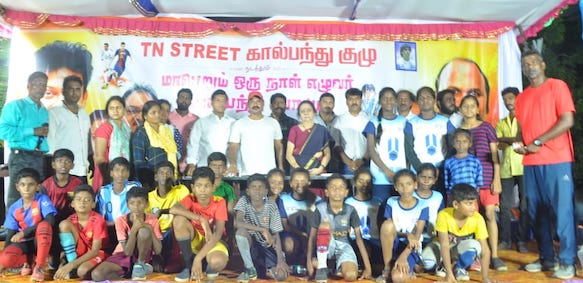 This was a dawn to dusk tourney: the ground was festooned and local people, especially youths of the area, sat on the fringes to watch the matches.
Local area police officer Rajeswari also came by and greeted some teams.
Nirmal, the host says this is an annual tourney and he and his partner work hard to raise money, for the budget is tall.