This kolu in a house in Abhiramapuram 4th Street, put up by chartered accountant Sangeeta Shankaran Sumesh, was "minimal but with a definite message."  The theme? Mrigaya, focussing on the significance of the animals with the gods and goddesses.
Each kolu padi featured a god or goddess with a related animal set closeby. All images.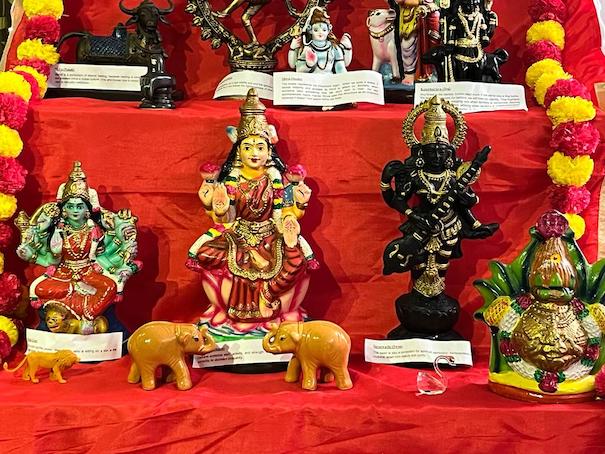 For the last nine or ten years, Sangeeta's kolus have been small and theme-based, she tells me.
Triloka on Bhoolaka, Swargaloka and Patalaloka; and Kailasa are some examples of her unique concepts for kolu. "Kailasa was in 2017. We had just returned from a trip to Kailasa Manasarovar." she says.
Sangeeta believes that there are many messages that Indian culture convey.
"If we look for them.  All our gods and goddesses have vaahanaas. They are there for a purpose—to teach us a simple but significant life lesson. Pillayar's moonjur teaches us to control greed. You've never heard about the moonjur jumping for the laddu in Pillayar's hand. Murugan's peacock teaches us to control the fickleness of the mind."
An independent trainer for corporates, she has 25 years of corporate experience. She is a published author and has penned four books:
What the Finance
, a bestseller;
Where's the Moolah
, on financial growth hacking for business profitability;
Get High
, a book on achieving high performance; and
A Glance at the Unknown
, which is a spiritual thriller.
If you look for The Gain Enabler online, you'll reach Sangeeta on her social media page. Her contact – 9176682844.
– Report by Kanaka Cadambi; based on a lead by Sukanya Shankar