Greater Chennai Corporation's (GCC) Park at R A Puram's 7th Main Road, is one of the well-maintained parks thanks to GCC and in particular Palani, the GCC gardener, who takes care of the park.
Palani, a gardener by profession, is so dedicated to this park that the greenery of the park is rich and healthy. The greenery draws neighbourhood people use this park for their daily walks and the outdoor gym equipment. Palani has planted a lot of flowering plants and they are in bloom across seasons.
Bala, a grandson, of Palani, is also a gardener and is employed by Raja Annamalaipuram Residents Association (RAPRA) for maintaining about 70 roadside saplings planted by them by applying red sand and manure, pruning and placing bamboo poles for straightening the saplings.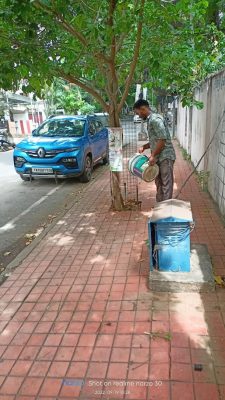 These saplings were planted in lieu of the loss of trees due to cyclones in 2016 and 2019.
Both Palani and Bala form an excellent pair in their untiring efforts for protecting the greenery of R A Puram, the western region.
Members of RAPRA surprised Palani and Bala by joining their Ayudha puja celebrations this past week.
This report is based on a mail from RAPRA