The break in the rain this morning allowed families to head to Quibble Island Cemetery on D G S Dinakaran Road to offer flowers and prayers at the graves of their family members, as the Church marked All Souls Day on November 2, part of the church calendar.
The drizzle later in the morning didn't discourage families from heading here. The cemetery had been cleared of weeds and waste a week ago. Flower sellers set up tables on the pavement.
Many nuns first decorated the graves of their seniors buried here and offered prayers.
At Our Lady of Guidance Church at R. A. Puram, two Masses were said at 6 and 7 a.m. remembering those have passed on.
Fr. Y. F. Bosco, parish priest here was to say a Mass at 4.30 pm at the St. Mary's Road Chennai Corporation Christian Cemetery in Mandaveli. It is a cemetery which this parish manages.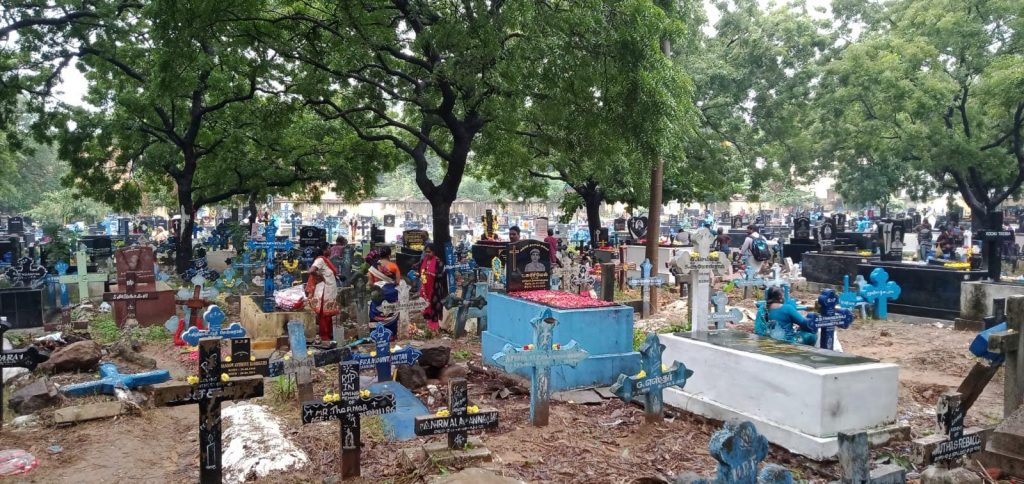 Though there was steady rain through the morning, people visiting the graveyard were seen here – washing the graves, lighting candles and incense sticks and adorning the graves of their loved ones with flowers.
– Additional inputs from Juliana Sridhar. Second photo by S. Sridhar