Sri Madhava Perumal Temple witnessed a record crowd on Monday on the occasion of Vaikunta Ekadasi.
With this annual event having been skipped in the last two successive years because of the pandemic, this event drew devotees in large numbers; they thronged the temple through the day from 5am.
A temple staff told Mylapore Times that over 2000 special tickets were sold.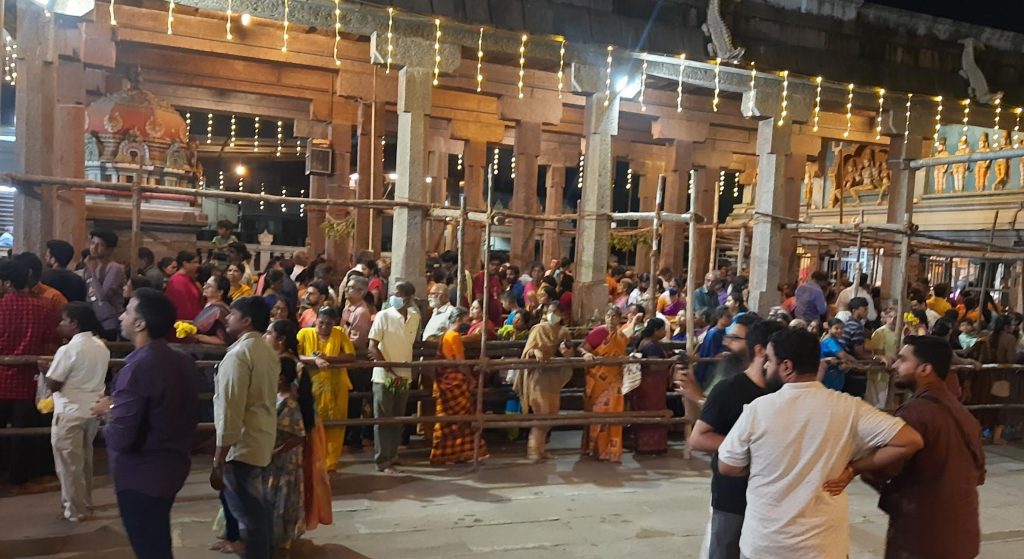 Hundreds of devotees watched the special procession of Madhava Perumal inside the temple complex at 7.30pm led in the front by the recital by the Prabhandham members of Upadesa Ratna Maalai. Much to the joy of the devotees, the Sripatham personnel presented the voyali and snake dance as part of the procession .
People continued to stream in till 10pm, keeping the priests on their toes. Chief Priest Sundar Bhattar told Mylapore Times that he had roped in eight additional priests to manage the sannidhis on this occasion.
The ten day Era Pathu Utsavam started close to 11pm on Monday with the prabhandham members presenting the first canto of Nam Azhwar's Thiruvomozhi verses.
Close to midnight, the few devotees who stayed back for the start of the Era Pathu utsavam were presented with upma and sundal.
Report, photos by S. Prabhu