Very rarely have we heard of or attended a hundredth birthday. 
But for a family of 136 members, it was the perfect opportunity to celebrate the centenary birthday of their eldest member – whom they all affectionately call Amma – Ratni Bai Chordia. 
Beautiful as a gem, as her name suggests, Ratni Bai is the mother of eight sons and five daughters. Married to S. Manicklal Chordia, who was a popular social worker from Mylapore, an honorary presidency magistrate figure in their circles, and connected with various educational and social organizations in Chennai.
On February 18, the event was showcased at the hall of Hotel Annalakshmi. 
Amma and her family of five generations were dressed in a white-gold-copper theme, and looked regal. The programme started with Amma's royal entry followed by Charan Poojan (worshipping her feet with milk), songs, dances, speeches, and an audio-visual presentation which highlighted interesting events of her life including her skill at playing chaupad (game of dice) and love for reading to this day.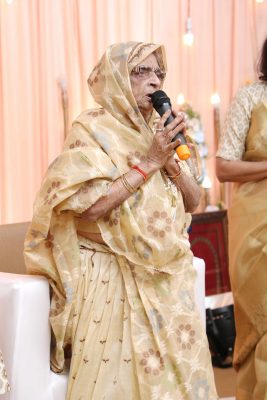 An entry stamp of #100yearsyoung and a 2D family tree at the entrance made a lovely photo booth. It was a beautiful event, with a magical touch.
The highlight of the evening was a short talk by the centenarian which was based on the Jain principles of seeking forgiveness from her family for any hurt caused to them knowingly or unknowingly, blessing them, and expressing her gratitude to them.
Over 300 people attended the event, including Amma's family, extended families and friends. Apart from guests, 100 members of Amma's family were present.
< By Pratibha Jain; she  is Amma's sixth son's wife