This is a devotionally important event ahead of the arubathumoovar procession. And it took place this Tuesday morning ( April 4) at the tank of Sri Kapali Temple
Thiru Gnana Sambandar bringing Poompavai back to life, while  singing 10 verses of praise about Kapaleeswarar's festivals; this was enacted shortly before noon at the west end of tank.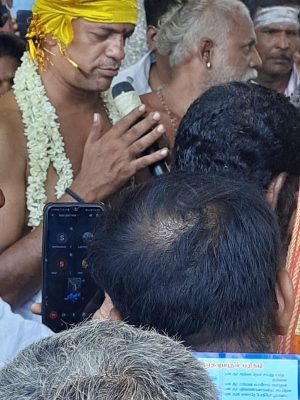 Poompavai had died of snake bite. Thiru Gnana Sambandar made his way from Thiruvottiyur to Mylapore and with his verses that asked her if she did not want to have darshan of the divine couple on the Panguni Uthiram day,  she was brought back to life
Othuvar Sathgurunathan ( seen in 2nd photo) presented the 10 verses of Thiru Gnana Sambandar's praise on Kapali's utsavams round the year and after the last verse, the screen was unveiled and to the delight of the hundreds of devotees who listened to the recital with great devotion, her life had been revived.
The big group of bhaktas of lord Shiva kept chanting in prayer, many had tiny tots with them and some kids stepped out to apply sacred ash on the foreheads of devotees after the ritual on the steps of the tank.
A morning where devotion ran high in a corner of this huge tank.
Story by S Prabhu. Photos; Madhan Kumar, S. Prabhu