A senior dentist in Tamil Nadu and long standing resident of Mylapore, Dr. R. Viswanathan (aged 89 years) passed away on April 18.
Dr. Viswanathan, retired senior professor, Madras Dental College and former dean, Ragas Dental College passed away at his residence in Thiruvengadam Street, Mandaveli where he had been residing since the year 1954.
He belonged to the first batch of the dental wing of Madras Medical College.
He did his masters in oral pathology at Nair Dental College, Mumbai. Subsequently, he established the dedicated oral pathology department in Madras Dental College.
He joined Tamil Nadu government medical service and retired as senior professor in Madras Dental College in 1992.
After retirement, he joined Ragas Dental College and Hospital as its Dean. 
He contributed articles to several international dental journals. He had also guided research projects of Indian Council of Medical Research and of the state government.
He was one of the founder members of Indian Association of Oral and Maxillofacial Pathologists.
Dr. Viswanathan also extended his services to the poor and needy by supporting several social service organisations.
He used to treat patients free of cost every Saturday at Mylapore Academy premises for some 25 years (1985 to 2010).
He was bestowed with Lifetime Achievement Award by Dental Council of India. He was also decorated with Lifetime Achievement Award by Tamil Nadu Dr. MGR Medical University in 2011 and by The Mylapore Academy in 2017.
Dr. Viswanathan was a practising dentist in Chennai for a period of 56 years (1960-2015).
He was fondly regarded as the "Bhishma of Oral Pathology" by his students.
He is survived by his wife Rukmani Viswanathan and two daughters and their families. His family can be reached at 24939702.
Below is a copy of Mylapore Times issue that had a feature on this famed dentist, written by Geetha Iyengar.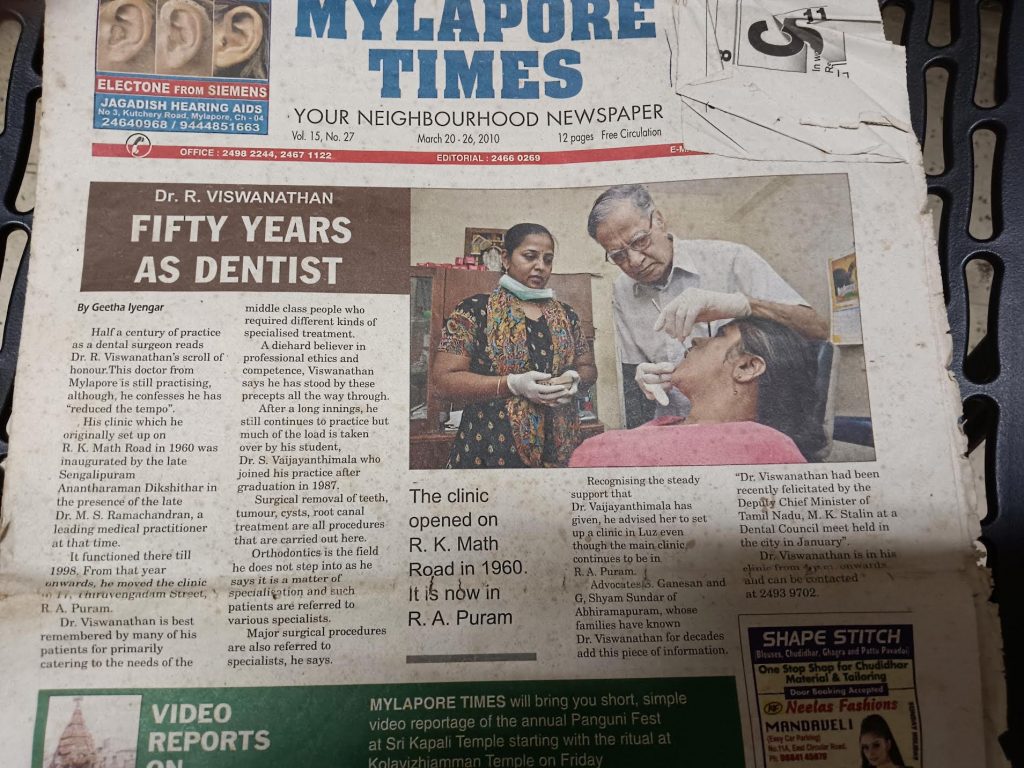 Tribute contributed by Shyam Sunder