The Society of Auditors, Chennai with its office in Luz, is the oldest known accountants body in the eastern
hemisphere of the globe.
The best known names in the Indian accounting professional world from this part of the country were not only instrumental in the formation of the Society but also in nurturing it to ensure its steady and influential presence to an extent that the body was a precursor and a trendsetter for many such organisations to germinate, grow and flourish across the country.
The Society itself was a persuasive force to the Government of India to even formulate the Institute of Chartered Accountants of India under an Act of Parliament in 1949.
The Society is a nice amalgamation of experienced senior professionals and young professionals sharing knowledge on one platform.
Thanks to advancement in technology, strong team and vibrant participants, the
monthly meetings have rapidly grown to weekly dissemination of knowledge.
The Society is currently celebrating "We are 90 marching to 100"season.
As a part of this celebration, it hosted Nirmala Sitharaman, union minister for finance and
corporate affairs at its recent meet held at a star hotel in R. A. Puram.
Photo below shows – L to R: Mahesh Krishnan, Jt Secretary, S Mohan-Vice President, Anusha Sreenivasan-President, union finance minister, G N Ramaswamy – Secretary, V Swaminathan – Vice President and B Rajagopalan – Treasurer.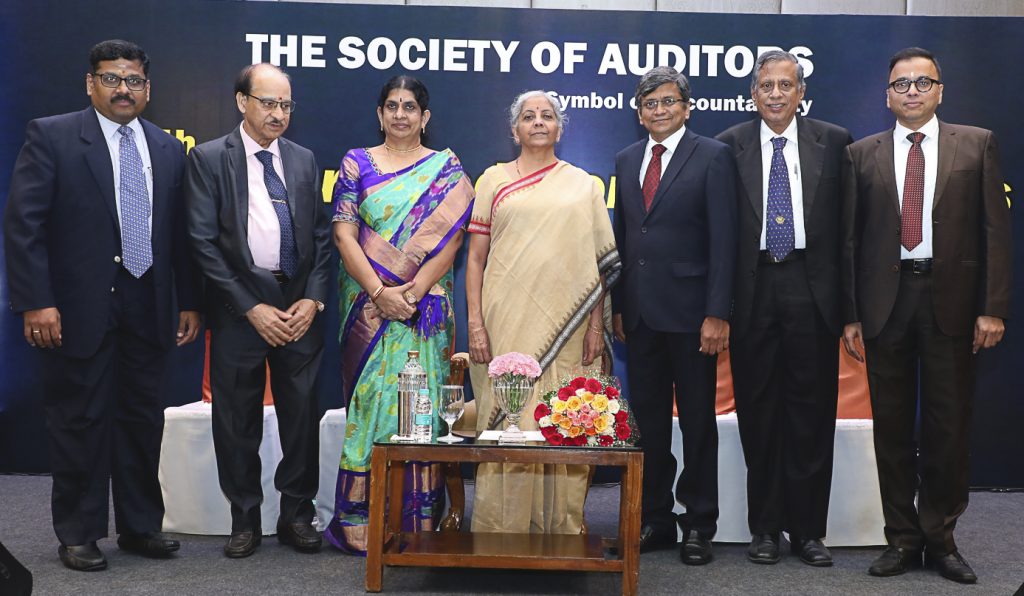 The first woman president of SOA , Anusha Sreenivasan welcomed the gathering and briefed about SOA's activities and G N Ramaswami, secretary, proposed the vote of thanks.
Address: 33, TNHB Complex, No 4, Luz Church Road, Mylapore. Ph: 24986979