AIADMK leader Jayalalithaa campaigns in Mylapore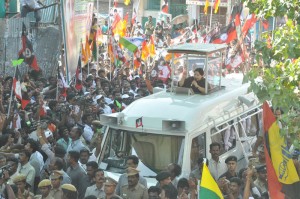 AIADMK leader J. Jayalalithaa campaigned in the heart of Mylapore on Sunday afternoon.
As part of her whirlwind tour of the city after her tour of the state, Jayalalithaa spoke to a large crowd at the Mangollai junction on East Mada Street.
She was in her campaign van and delivered her speech from inside it. The AIADMK candidate of Mylapore, Rajalakshmi was in a van beside that of Jayalalithaa's.
A huge crowd had gathered here since 11 a..m. expecting the leader at 12.30 but she arrived late by about 2 hours.
This was possibly the biggest and most colourful meeting this election in Mylapore.
Sunday was the second last day of campaigning for Elections 2011 in TN. It ends on April 11 evening. Voting takes place on April 13, 8 am onwards.
This entry was posted on Tuesday, April 12th, 2011 and is filed under
Election 2011
. You can follow any responses to this entry through the
RSS 2.0
feed. You can skip to the end and leave a response. Pinging is currently not allowed.