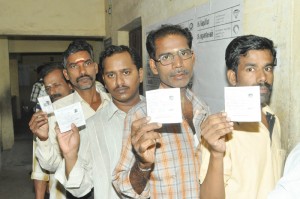 Voting in elections to the Chennai Corporation council on October 17 was slow and steady at most booths in the Mylapore neighbourhood.
When the booths opened at 7 a.m. the flow of voters was thin but security was high.
The flow of voters picked up as the morning progressed.
At Rajah Muthiah School (division 173) in R A Puram area and at Corporation Middle School at M. K. Amman Koil Street (division 124) in Mylapore area many voters were seen joining queues to cast their votes at about 8.30 a.m.
On the other hand there were hardly any people at the polling booth at St. Ebbas School campus at Dr. Radhakrishnan Salai (division 119) at that time of the day.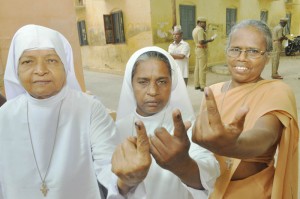 Nuns who reside at a convent on Madha Church Road in Mylapore were among the first few to cast their votes at the Chennai Corporation School, Mandavelipakkam (division 126).
There was a small commotion at the polling booth in San Thome Hr. Sec. School (division 125) when a couple, Jyothi and Joseph from Kuyil Thottam claimed they could not find their names in the election list and raised a ruckus.
Police patrol vehicles were seen doing the rounds of the area.at the Chennai Corporation Office, C. P. Ramaswamy Street (division 123). As the evening wore on, people hurried to booths before the deadline of 5 p.m. There was a steady stream of people at the Chennai Corporation campus on C. P. Ramaswamy Road in Alwarpet even as the clock ticked towards 5 p.m.