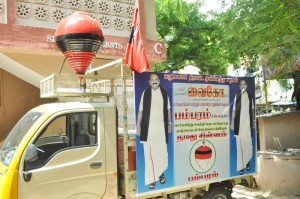 Lakshmi Suresh, the BJP candidate for ward 124, which is reserved for women and covers the heart of Mylapore aims to cover over 1000 families in the Slum Board tenements of Palakkuma Nagar, behind the Mylapore Club on Friday evening.
The 5000 voters here are crucial and Lakshmi is giving her final shot as campaigning in the elections to the Chennai Corporation council closes on Saturday.
Elections are due on October 17.
Lakshmi, who served a term in the council has had to grapple with a sprawling ward which has about 39,000 voters now. The realignment of wards after the Greater Chennai  area came into being has forced candidates like Lakshmi to really stretch themselves to reach the nooks.
Some candidates have been deputing their colleagues, some have bypassed some colonies and some have done a hurricane campaign.
Mylapore's public walls are now plastered with little posters and campaigners find it easier to pass around handbills to get the buzz across.
Also, with all leading parties contesting by themselves and independents also in the fray, hardboiled candidates feel the contests could be close.