Panguni Festival: Police to use help of CCTV cameras to check offences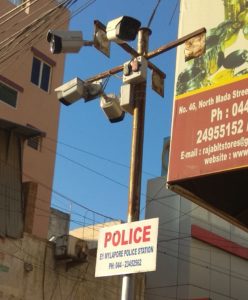 Mylapore Police have started taking precautionary measures to ensure public safety is maintained during the annual Panguni Festival of Sri Kapali Temple.
This festival which draws huge numbers of people is scheduled to take place from March 11 this year.
Police expect a huge crowd on the day of the Thiruther, since it falls on a Sunday (March 17).
"We are also preparing for the Arubathumoovar procession (March 18) and Thirukalyanam (March 20)," says R.Velmurugan, sub-inspector, Mylapore.
"For annadhanam, we will allot a single stretch of area for donors to set up counters, the way we did last year. And people will be allowed to come in queues to receive food," he says.
He says that since many CCTV cameras have been installed on the mada streets at an interval of 15-meters these will be used to monitor the crowd during the important days of the festival.
"We will also increase the number of policemen and women in civil dress from the Intelligence and Crime departments. They will also be continuously monitoring the situation," he says.
This entry was posted on Saturday, February 16th, 2019 and is filed under
Community
,
Crime, Law & Order
. You can follow any responses to this entry through the
RSS 2.0
feed. You can skip to the end and leave a response. Pinging is currently not allowed.