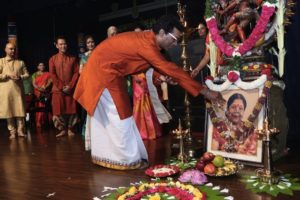 It was the start of a dance festival that celebrates one of Bharatanatyam's highly respected gurus, late K J Sarasa who had her dance academy in Mandaveli.
Her sishyas and wellwishers were celebrating the platinum jubilee of Sarasalaya, the school the guru who is said to be one of the first female nattuvanars established and ran for many years.
At Bharatiya Vidya Bhavan on Saturday, the evening began with Sarasa's senior disciples – Urmila Satyanarayanan, Srekala Bharath, A. Lakshmanaswamy and Sailaja performing on stage.
At the formal function, guru Sudharani Raghupathy recalled an era when male nattuvanars dominated the field, when women dancers hardly got opportunities to perform, when families looked down on hints from youngsters to learn Bharatanatyam and when K J Sarasa blazed a trail of her own.
Dancer-gurus Chitra Visweswaran and Padma Subrahmanyam, dancers Ramli Ibrahim and Madurai Muralidharan besides special guest Vyjayanthimala Bali spoke on this occasion.
A few young artistes were honoured.
The fest runs for two more evenings – with awards, dance recitals and screening of a biopic on Sarasa. Dancer and Sarasa sishya Shanmugha Sundaram has led the curation of this fest, an annual tribute. He is seen in the photo at the formal launch of the fest, paying tribute to his guru.