Cyclonic weather: Mylaporeans report from their colonies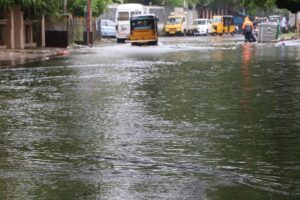 Due to the intermittent rains that have been pouring in Mylapore since yesterday, some neighbourhood streets are flooded. Tree fall has also been reported at a few places.
At Abhiramapuram First Street, resident Giridharan Kesavan, says that there is ankle deep rainwater stagnated since yesterday. "Pedestrians and motorists are finding it difficult to wade through the water," he says.
Waterlogging is also reported at the west end of C.P. Ramaswamy Road junction (shown in picture)
However, no water stagnation is there at Raja Street in R.A.Puram, reports Ganga Sridhar, a resident. "The newly built stormwater drain (SWD) at a section of Velayudha Raja Street and renovated drains at Raja Street Extension is quickly draining the rainwater."
She says there was a power cut for a short period following a tree fall at the eastern side of Raja Street. "But power got restored in a few minutes."
Sheila D Souza, a resident of East Circular Road, San Thome also says there is no water stagnation in her area. She says, "Rainwater drains  off into the SWD at San Thome High Road soon after rain stops."
"All is well at our area as of now," says Nirmala Raghavan of RAPRA (R.A.Puram Residents Association). "In the past few years, we have constructed multiple rainwater harvesting (RWH) structures in our area. Almost all apartment complexes and individual houses have RWH systems. Hence, rainwater is flowing into these structures and there is no waterlogging."
"To ensure the inlets of RWH structures do not get clogged, we have appointed volunteers for every main road and crossroad. They regularly clear the clots and make sure water goes into the RWH structures."
She says that their volunteers have been on alert since the past few days. "They instantly arranged for clearing the remnants of a fallen tree at 1 pm, last midnight."