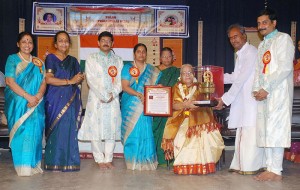 An exclusive Children's Thamizh Festival organised by Sumukhi Rajasekharan Memorial Foundation on April 30 brought together about 500 children to celebrate the event.
The "Balar Chithirai Kalai Vizha" was also a forum to honour some eminent persons in the fields of art and literature.
The programme started with 'Dhesa Pattru', a concert of soul stirring patriotic songs presented by Revathy Sankaran.