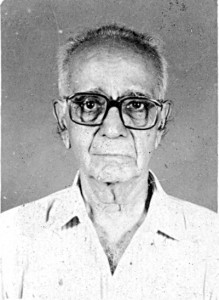 R. K. Chintamani, 93 passes away on June 9, 2010 at his residence in R. A. Puram.
The end came after a minor surgery that he underwent.
He was born in Chatrapur, now in Orissa in 1916.
He obtained his B.Tech degree in Mechanical and Electrical Engineering from the Benares Hindu University.
He was married in 1940 and leaves behind his wife, a son, two daughters and great grand children.
He was associated with Greaves Cotton and Co Ltd. and retired as the branch manager, Patna branch.
Before moving over to R. A. Puram, he was a resident of Kottur Gardens and took an active part in local activities.
Contact address – Flat No. 7, Acharya Apts., 31/15, 2nd Main Road, R. A. Puram. Ph: 99406 37482.